Freelancers
Your administration always on point
Administration is probably not your favorite thing to do. Unless it is your daily work of course. With CoManage Starter or CoManage StarterPlus you can easily put your daily administration in order. Invoices and offers are sent out easily and professionally and you always have your customer data at hand. If you want, you can even register your hours with CoManage.
digital administration invoicing, customer management, ...

professional quotes flawless and fast

customer management always up-to-date

purchase invoices process receipts and other costs

7/7 support every day support from 9h till 22.30h CET

e-invoicing ready for the future!
Google reviews
Als je op zoek bent naar een handige tool voor jouw administratie dan zit je bij Comanage goed. Een overzichtelijk programma met alle functionaliteiten die je wenst en dit tegen een eerlijke prijs Qua helpdesk en service steken ze er wat mij betreft met kop en schouders bovenuit.
More...
Less...
Fietsstickers Balen
Zeer tevreden over comanage!
Ondertussen al ruim 2.5jaar ons programma om offertes en facturaties uit te voeren.
De chat toepassing is niet alleen makkelijk maar ook krijg je steeds zeer snel een duidelijke uitleg hoe je dingen voor elkaar kan krijgen.
Tevreden klant,
Sbs-Pro dak & schrijnwerken

More...
Less...
Bjorn Seuntjens
Erg tevreden met het programma en de snelle en goede support!
More...
Less...
Corné Hoek
Discover the advantages for freelancers
Read below why CoManage is the favorite
administration program for many freelancers
Professional invoices in a snap
Whether it's at the end of the month or weekly. You will have your invoices out in no time. With the template you choose and your own style and logo, they look instantly professional.
Quotations sent quickly
The same evening after your conversation, you can quickly and easily send out a professional quotation. The faster the quotation is out the door, the sooner you will know whether you have landed that order.
All customer data conveniently together
Not only all your customers' contact information conveniently together, but also the corresponding notes and invoices/quotes conveniently arranged in one customer sheet.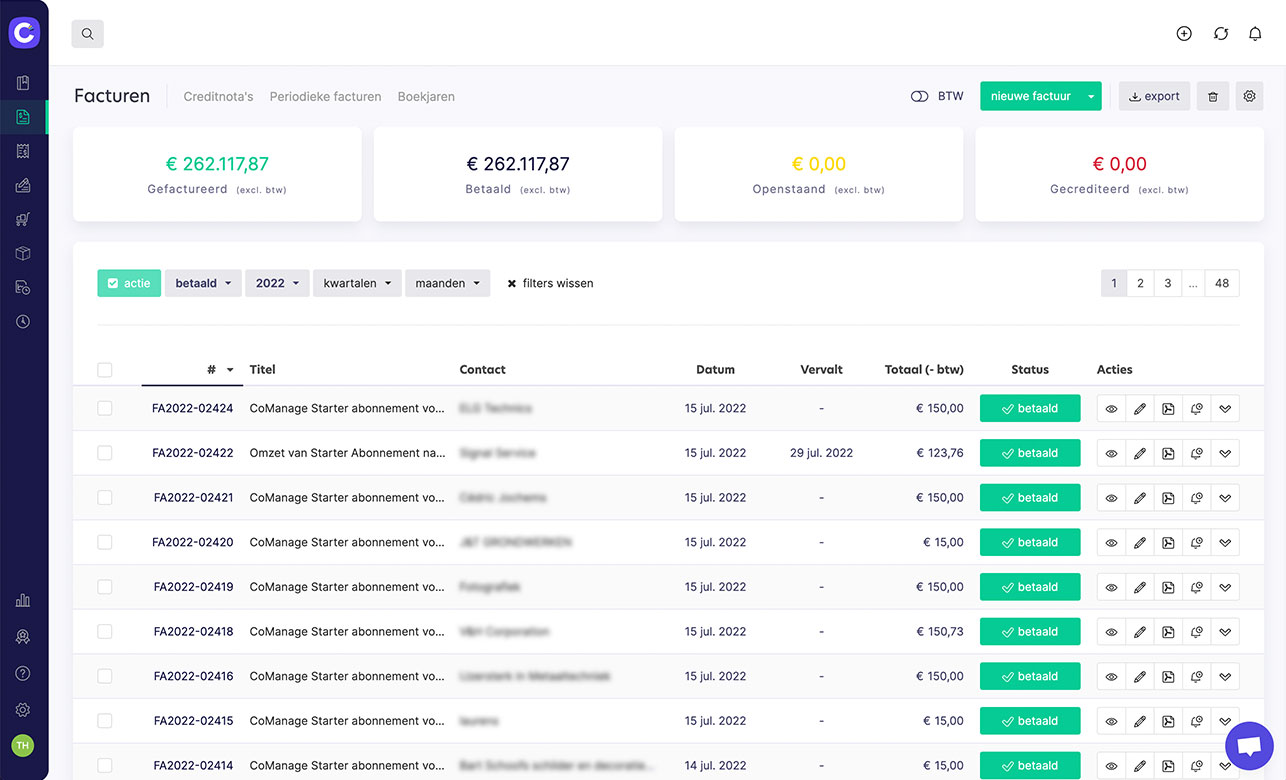 Functionalities for freelancers
With CoManage you have a collection of tools which make your life as a freelancers easier:
Blog posts for freelancers