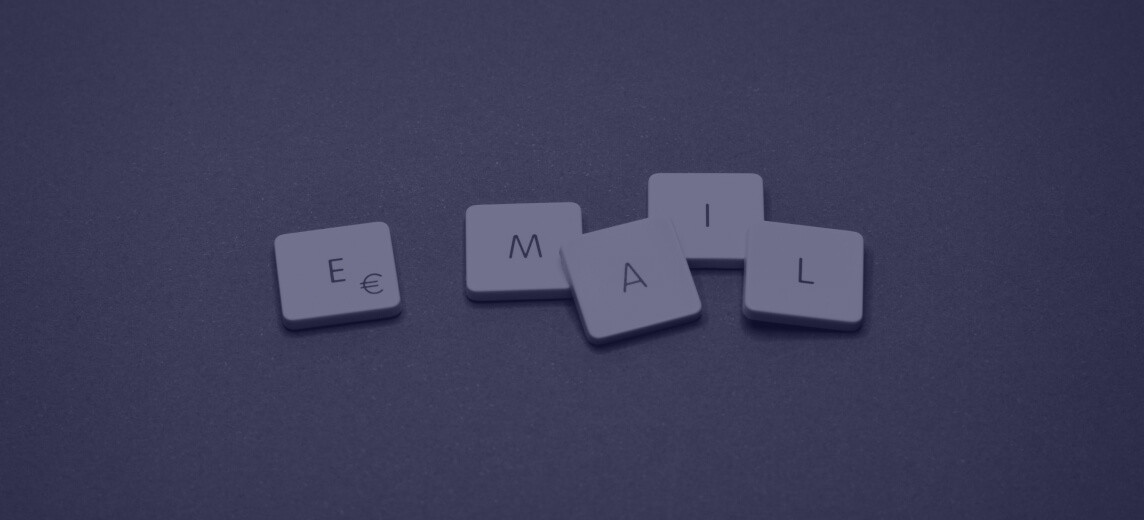 5 quotation follow-up emails that work
Email is the ideal way to follow up on quotations. Instead of struggling with writing them, you can copy our 5 proven email templates. Adapt them to your needs, send them out, and watch your approval rate skyrocket.

You can use the examples in CoManage as your quotation follow up as well. The first 14 days are free!
Key takeaways
Email is the best way to follow up quotes.

You can copy our 5 powerful examples of quotation follow-up emails. Or use them as inspiration.

To increase your chances of getting quotes approved, make sure you apply our extra tips to improve your sales follow-up emails.
What is the best way to follow up on quotations?
From all the communication channels, email is the best way to send and follow up quotes. There are 7 good reasons for this.
#1 Email gives people time to think about your proposal
Emails give people the chance to think before answering. Especially responses to high-ticket offers may require some time. The same is true if several people need to review and discuss your proposal.
#2 Email is THE business communication channel
Email is the most common channel for business-related communication. The etiquette is straightforward and leaves enough room for both informal and formal business communication.
Asking for feedback on your quotation on, for instance, LinkedIn or Facebook chat, is not done.
#3 Use only one channel for quotes
Quotations are usually sent by email. Therefore, it also makes sense to follow them up by email. Switching the communication channel may confuse people.
#4 Email is where people can focus
If you want people's attention, email them. It is a one-to-one communication channel and people often treat emails as to-do tasks. Dealing with your quotation is one of them.
#5 You can track emails
You can track emails in different ways. That can make it easier for you to know when your quotation is seen.
Read receipt

An Out of Office reply

Automatic messages such as "The mailbox is full" or "This email is not valid"
They all give you a clue about what happened to your email and quote.
Pro tip: When you create and send a quotation with CoManage, you have a clear overview of all your quotations that were seen.

#6 Quotes need a written approval
Although a phone call or video meeting is powerful to further discuss quotations with your customer, you will need some sort of official written approval. That can be a signed contract, or an approval sent by email.
If people only have to reply to your email, you make their life easier and your sales team happier.
#7 You can use email templates
Email templates are powerful. They help you save time and if you use an excellent tool, you only have to write them once.
Pro tip: In CoManage, you can add an email template. The personal fields are automatically filled in with the data from your built-in CRM.

Pro tip 2: We now have an integration with Chat-GPT! This means that you can ask AI for help with the text of you quote email templates. Make use of the versatility of this tool.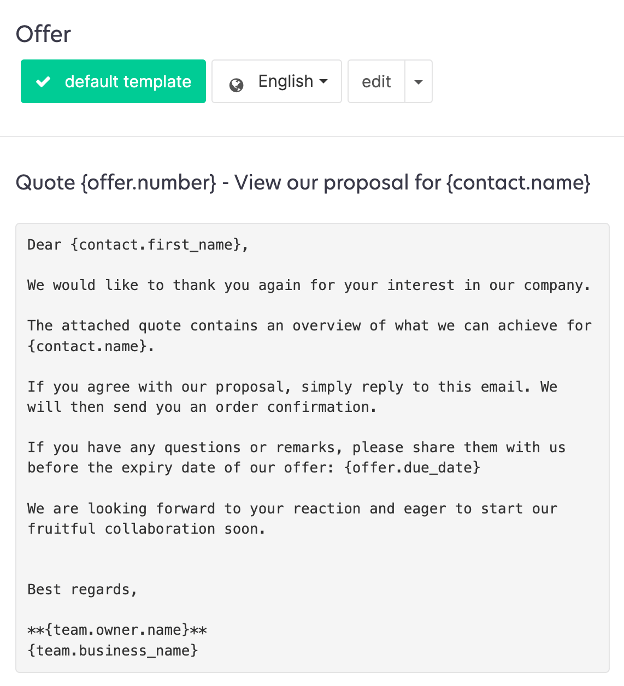 ---
Quotation follow-up email examples
Below, you can find 5 examples of emails you can use after you have sent a quote. You don't have to send all these mails. Just pick the one that fits your needs.
#1 Follow-up email: confirmation of receipt of your quote
The goal of this email is to be 100% sure people actually received your quote. The easiest way is to ask customers directly by email.
Email subject line: Did you receive our quote?

Email body:

Dear <Contact Name> ,

As promised by my colleague Carla on <date> , I am sending our quote again as an attachment.

To make sure you have enough time to decide or ask me any questions, I have extended the validity period.

We don't want you to miss out on our best possible offer.

Can you please confirm you have received it? You can simply hit reply to this email.

Thank you in advance!

Best regards,

Your name

Email footer
Use case for this follow-up email
This email template is useful when things go wrong while sending out an email.
Sometimes, people did not receive your mail, and they let you know this was the case.

Or they are not aware you sent a quote.

You haven't received an answer to your mail.
When to (not) send this email?
Obviously, don't send this mail if your customer sent you a confirmation of receipt. That can be a simple "Thank you" email.

The ideal time to send this email is 3 business days to one week after you haven't heard back from your lead. People are busy and sometimes forget to reply. Waiting a couple of days for this first follow-up email won't make you sound pushy.

If customers ask you to send your quotation again, do it ASAP.
Why does this mail work?
You show that your business is efficient. Mentioning details, such as the name of a colleague or a date, are subtle details that help build trust in your company.

You extended the period. This creates goodwill at the other end of the mailbox.

You avoided saying sorry. It may sound strange that this is an advantage, but the reason they did not receive (or see) the email may be out of your control. Instead of blaming technology, you have fixed a problem.
What to do if you don't get a reply?
Silence is the worst that can happen to you. Your best strategy is to be patient and persistent. Do not send another mail to ask for a receipt confirmation. Instead, you can send the following template.
#2: Follow-up quotation email: ask if there are questions
Waiting for leads or customers to ask questions about your quotation is a terrible idea. A better strategy is to use the following email sample:
Email subject lines:

Did we explain everything well?

Do you have questions?

Is our offer 100% clear?

Email body:

Dear <Contact Name> ,

We aim for crystal clear communication with all our customers, before, during and after we execute a project.

But I also understand that you may have questions about the quotation I send on <date>.

Please do not keep them to yourself, but share them with me.

This way, I can prevent misunderstandings and help you make the best possible decision.

If you prefer to discuss this with me outside the mailbox, I can offer you several options:

E.g.: book a call/ appointment/ phone number + when you are available

Best regards,

Your name

Email footer
When to (not) send this follow-up email?
Don't send this email when your customer has given you a clear timeframe about their decision process and they are still respecting this themselves.

However, if they don't keep their promise to inform you in time, this email can save your day. Maybe they got a delay and forgot to inform you.

As for timing, 2-3 weeks after you sent your quotation is reasonable.
The positive side effects of this email are:
You show that your business is proactive. Tackling doubts and solving questions before they become a problem is a strong signal that you are serious about your business.

You can give them a hint of what to expect when they approve your quotation. "Crystal clear communication", for instance.

You can show that you are available to customers in the way people feel comfortable, without having to be available 24/7.

If you receive a reply to this mail, you get an excellent chance to explain or adapt your quotation, based on the feedback of the customer.
What to do if you don't get a reply?
When people don't reply to this email, they are probably not interested in what you offered. However, that doesn't mean you need to give up…
#3: Reminder email: your offer will expire
An expiration date is a powerful trick to set things in motion. It works for discount campaigns and it works for quotations.
This email is a good example to remind your customers that your offer will end soon.
Email subject lines:

Friendly reminder

Do you need more time?

Your offer will expire

Email body:

Dear <Contact Name> ,

We understand you are busy and we value your time equally well as we value the time of all our customers.

In order to guarantee you we can deliver your project in due time, I would like to remind you that our offer will expire on <date>.

However, I cannot promise that our team will be available for a long time after that. Also, we may be forced to change our attractive price.

Our team is highly motivated to turn your project into a success story. If you want 1 more week to further discuss the details with us, or to think it over, please let me know and I will do what is necessary.

Looking forward to hearing from you.

Best regards,

Your name

Email footer
When to (not) send an expiry offer email?
Don't send the mail 1 day before your expiry date. People may not open their mails and miss out. You need to give them a fair chance to make a last-minute decision.

Obviously, do not send it after your offer has ended.

Send this email close to the expiration date. 3 days to one week in advance is ideal.
Why does an offer reminder mail work well?
This is your last chance to get an approval. Don't let it slip away.

Some people find it easier to decide when there is time pressure.

Give reasons they may regret ignoring or refusing your offer. As in the email template above, you can do this subtly.
What to do if you don't get a reply?
If people ignore this email, they are not interested. Is that a loss? Probably not. Businesses and people who ignore you are sending a powerful signal. They would probably behave the same once you send an invoice.

It is possible that leads will approve your quotation after the expiration date. But that doesn't mean you need to agree with it. The conditions have changed and you were treated disrespectfully. It's up to you to decide if you want to work in these circumstances.
#4: Follow-up email: proposal accepted
When people accept your proposal, the least you can do is to send them a thank you email. It costs nothing, and it is also a splendid opportunity to get feedback about your quotation.
Email subject lines:

Thank you!

One last question before we start

Email body:

Dear <Contact Name> ,

On behalf of our team, I would like to thank you!

As promised, we will proceed as follows to turn your project into a success story:

HERE YOU CAN GIVE A SUMMARY OF THE NEXT STEPS.

Before I set our team at work, I have one more question for you. We use this information only to give our customers the best possible experience. Please don't feel obliged to answer it.

What is the number 1 reason you assigned this project to us?

Best regards,

Your name

Email footer
When to (not) send this email?
The moment somebody agrees with your proposal, you thank them. Don't postpone this.

If a customer explained to you why they chose you, don't ask them again.
The positive side effects of asking for feedback on approved quotations:
Customers who approved your proposal are willing to share what they expect from you. Although that may be obvious, you can use their feedback to even exceed their expectations.

You could do a survey, but by asking one question only you may get an answer that you had not thought of yourself.
What to do if you don't get a reply?
Although this may happen, it is not likely. Don't push things when you don't get a response on your thank you mail. Or don't worry if your request for feedback on your quotations remains unanswered or is vague ("good quality/price ratio").
In all cases, make sure you mark the quotation as approved in your quotation software, or somewhere else.

#5: Follow-up email when your proposal is rejected
The goal of this email is to get feedback from leads who rejected your proposal. If you want to have a good understanding of the good and the bad of your sales flow, make sure you send this email.
Email Subject Line: Thank you!

Email body:

Dear XXXX,

We sincerely thank you for taking the time to let us know you won't proceed with us.

We also wish you the best and are confident that the company of your choice will help you achieve your goals.

If you want to share details about the reason our offer was not the best fit for you, you can let me know in all honesty. This will remain confidential, but it will help us serve future customers better.

Wishing you all the best!

Kind regards,

Your name

Email footer
When to (not) send this email?
Do not send it if you sense it would not be appreciated. Complete silence from your lead is a clear signal.

You can send it on the day your proposal is rejected. This timing is perfect because people want to move forward and not think about your quotation again afterwards.
Why is this email so powerful?
Feedback will help you better understand how people perceive your quotations and follow-ups. This makes it easier to avoid failures.

You give people who rejected your quotation an easy way to speak their mind. They may give you hints on how you can improve it. Or they may reveal the "secret success sauce" of your competitors.

A lost deal is a waste of time for many businesses. If you do this differently, you will stand out from the crowd.
What to do if you don't get a reply?
If you don't get any response, move forward. Your quoting procedure flow is finished.Just make sure you mark your quotation as "Rejected". This way, you won't spend more time on it than needed.

7 extra killer tips to improve your sales follow-up emails
Besides using the above email templates, you can also apply these powerful tips to improve your sales emails.
#1 Respect the general email etiquette
Respect the general email etiquette and expectations of customers. Especially in sales mails, this can make a tremendous difference.
If you are, for instance, a lawyer, you will probably not address your clients and prospects with "Hi" and end your mail with "Cheers".
Etiquette also refers to timing. The above templates give you clear hints about this.
#2 Respect your branding
Align your mails with the tone of voice of your brand. It looks super weird if your website is all fun and games and your emails start with "Dear Sir/Lady".
#3 The email footer: include your contact details and availability
Make sure you include your contact details in your email footer. The more, the better. Unless, for instance, you never answer your phone. In that case, don't mention it.
In your mail too, you can give simple instructions on how your lead or customer can do what you want them to do.
#4 Sound like a human, not a template
Sound like a human, not a hungry shark of the sales department. Or worse: an email template. Even when you use them, you can personalise templates.
Sending sales emails from info, sales or contact email addresses can cause confusion. People prefer to communicate with people.

If your customer mentioned something special, include it in your email. This will show that you have an eye for detail and that you actually care about what customers tell you.

Politeness and a human touch will bring you closer to sealing the deal.
#5 Optimise your sales email subject lines
Email subject lines are super important. They can make a difference between opening and ignoring your follow-up email.
Keep your subject lines short. Especially on smartphones, longer ones are cut off.

Ask a question. This makes people curious and increases the chance that they will open your mail. If you pose a question as a subject line, repeat it at the bottom of your email.
#6 Experiment with your email templates
The follow-up quotation emails work. But they are not perfect for every business or lead. And that's ok, as long as you try to improve your sales flow by fine tuning your emails.
Here are some things to keep a close eye on:
Use the feedback you get from customers and people who reject your quotations.

Analyse and evaluate your offer approval rates.

#7 Keep your sales team in the loop
If you are working within a sales team, make sure you keep your colleagues in the loop by adding notes to your quotes. This way, you will have a good overview of your follow-up emails.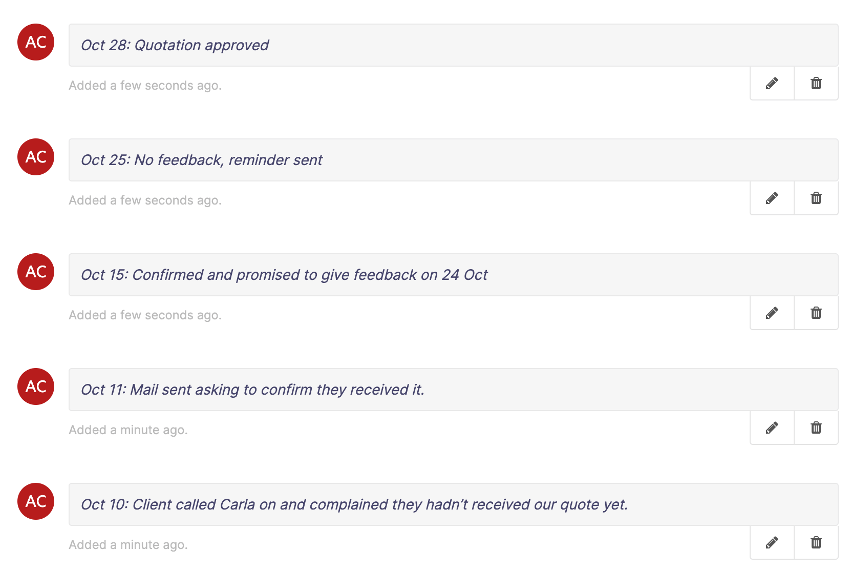 Now it's your turn. Go and boost your sales with these email templates. If you want to spend even less time on your quotes, today is a good day to…
Discover in this video how you can make a quote in 1 minute in CoManage