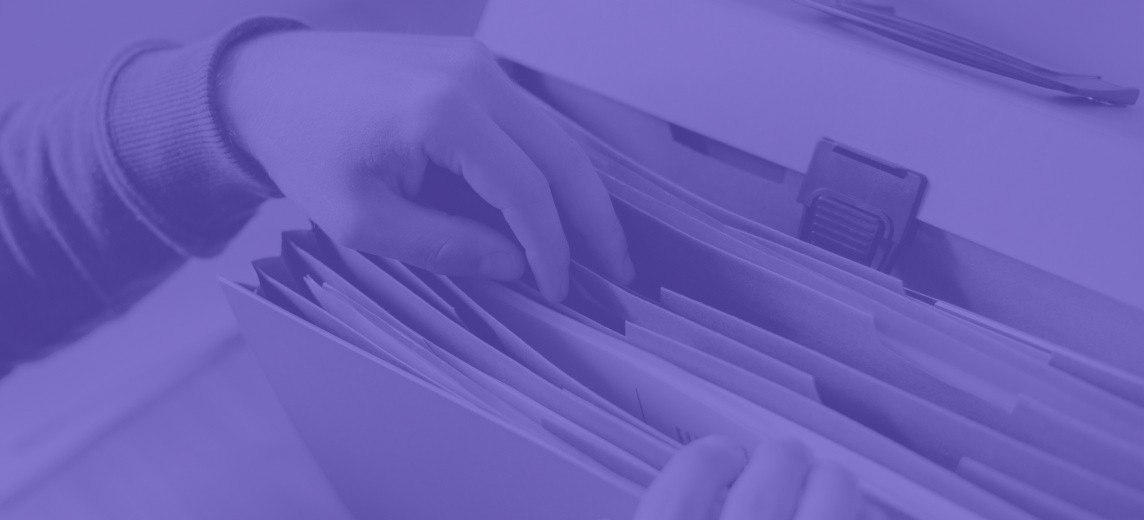 The client information sheet: 7 benefits of going digital
A traditional client information sheet is a printed version of a Word or Excel file. The moment you need access to your customer's data, this system is a nightmare. Digital customer records are easier to create and use. Besides, if you are serious about growing your business, you have 7 good reasons to go digital.
Table of Contents
What is a client information sheet?
7 benefits of digital customer records
Client information sheet example
3 ways customer records can boost your business
Create a digital client information sheet in seconds
Highlights
Client information sheets in Word and Excel are popular, but in fact nothing more than an address book.

It takes little effort to create, maintain, search and use (digital) customer account records.

Software turns client information sheets into a business asset with 7 advantages for freelancers and SMBs.

Such an app creates a purchase history automatically for every client.

You can enrich customer data by adding notes and fields that are important to your business. As a result, every client sheet will be 100% useful for your business.

A digital client information sheet system can boost your business in 3 ways.
What is a client information sheet?
A client information sheet is a document that contains key information about a consumer or business customer. In its simplest form, it contains contact details (name, address, e-mail address) and the VAT number of businesses.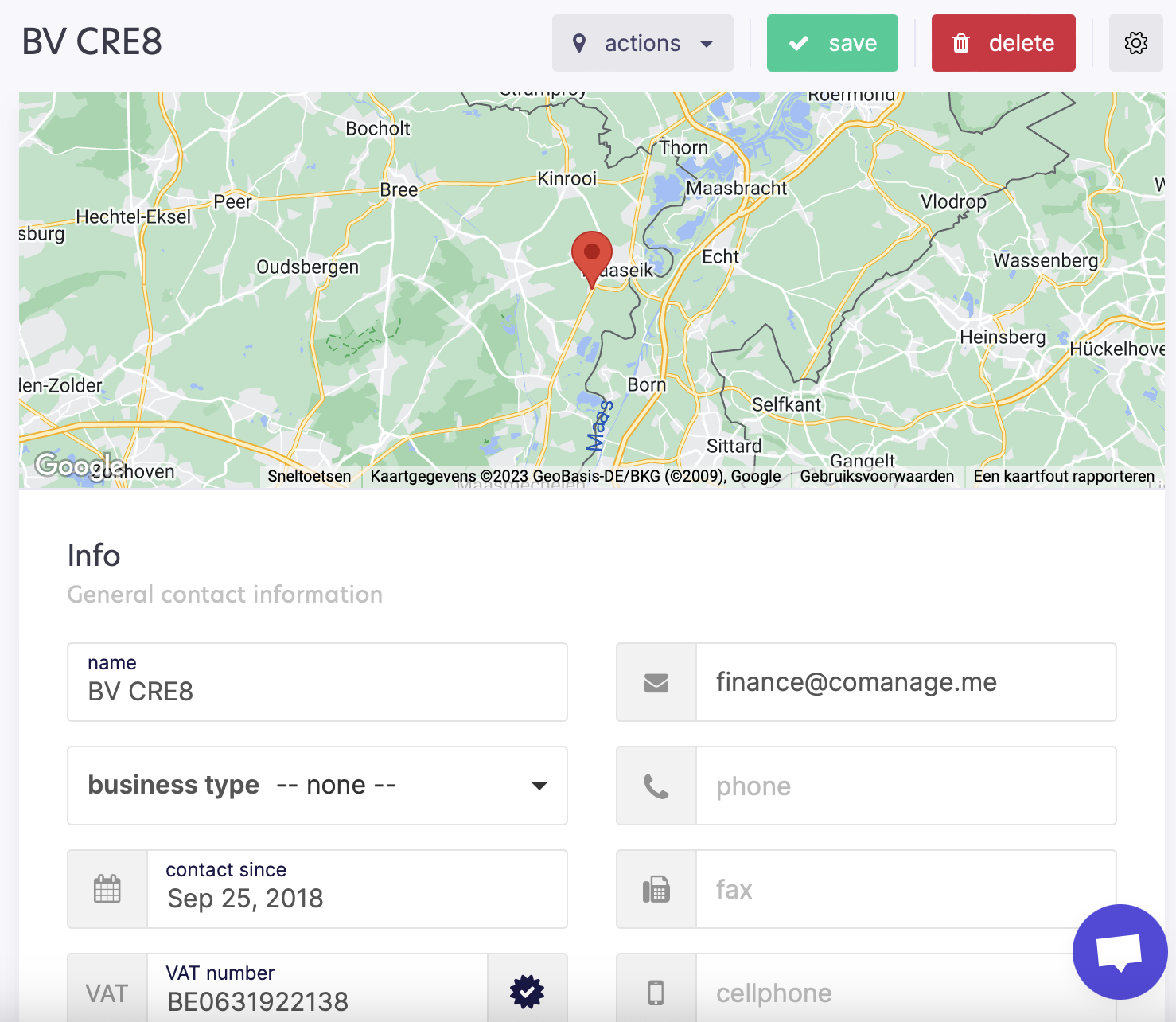 You need this information to create a quote or an invoice. A tool that can do both saves tons of time.
But…
A digital client information sheet can be much more than just a page from an address book
By the end of this article, two things will be clear:
Client information sheets on paper or in Excel hold your business back. To grow, you don't need a diary, but a database with important information about your clients.

Switching to a digital customer record system sounds more complicated than it is.
First, let's have a closer look at the benefits.
7 benefits of digital customer records
You already know that technology makes part of your job as an entrepreneur easier. Software to create, update, search and use client information sheets has 7 advantages for every business.
The differences with a traditional client file system are so big that these type of files are actually called customer account records, or customer records in brief. But let this terminology not scare you off.
#1 Client data in your pocket
Client information sheets on paper or as a Word or Excel file are limiting you. You need to carry them with you, or take notes to add them later in your document.
If you run a construction or gardening business, you probably don't need access to client data when doing your job.
Nevertheless, it's handy to have an app with your critical client and business data. Besides contact details, you can then, for instance, check if clients have paid their invoices.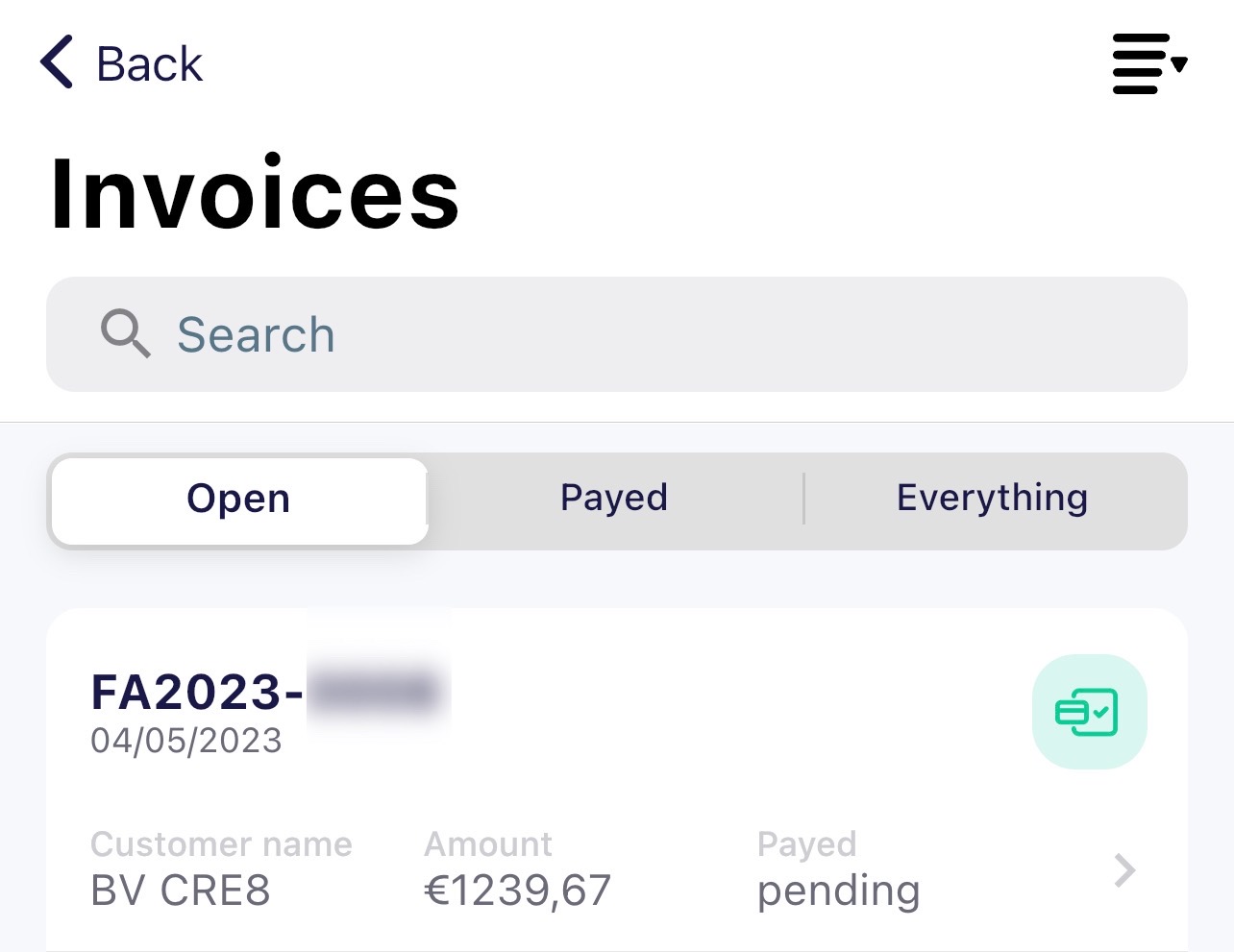 #2 Looking up customer details
How much time do you waste looking for the customer contact details and information?
A sheet of paper gets lost

Deciphering a colleague's handwriting

Customers who have changed addresses...
An online client management program makes all these troubles a thing of the past.
Enter the first letters of your customer's name and you have instant access to all the information you need.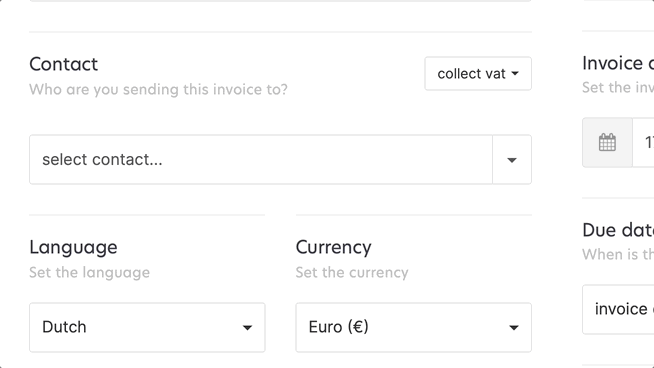 #3 Paperless administration
Luckily, digitalisation has gained a lot of ground. Even governments finally understand that this is the way to move forward. In some EU countries, for instance, you are already obliged to send invoices in a digital format.
Client information sheets are lagging behind. This shouldn't come as a surprise because
Nobody can force you to register client data digitally.

On top of that, you don't need to be a rocket scientist to print a template sheet.
These are two good reasons for companies to stick to the old habit of jotting down some notes on paper.
But as you have understood by now, this is not doing your business any favour.
#4 Enter a VAT number to create a business customer record
Do you know your client's VAT number? Then you have enough information to create a customer record. All the other company contact details will automatically appear in the file.
In this video, we show you how easy it is to add customers in CoManage:
If you only know the company name or an address, you can quickly look up the correct VAT number.
#5 Sharing client data with your team
When your business has at least two people on board, you'd better store customer records in a secured cloud environment.
Everyone on your team can access the data whenever they need it to do their job.
The data remains up-to-date.
Paper files and a customer database in Excel are no match for that.
#6 Invoices, quotations, projects
You don't keep track of client information for fun. This information is vital for invoicing.
But, a good tool can do so much more than assist you with performing basic tasks.
Time tracking: this is useful for SMBs and freelancers who want to increase their productivity.

Project management: proper planning builds solid client relationships.
Your first client information sheet, or customer record, can be the perfect starting point for an exciting journey.
Without effort, your business turns into a well-oiled machine that becomes unstoppable.
#7 Client history
Building a useful customer history report can take time. But the rewards are high.
One important aspect is the purchase history of clients. You definitely need to track every quote, invoice, and payment. Traditional client information sheets make that impossible.
A digital system, on the other hand, does this automatically for you.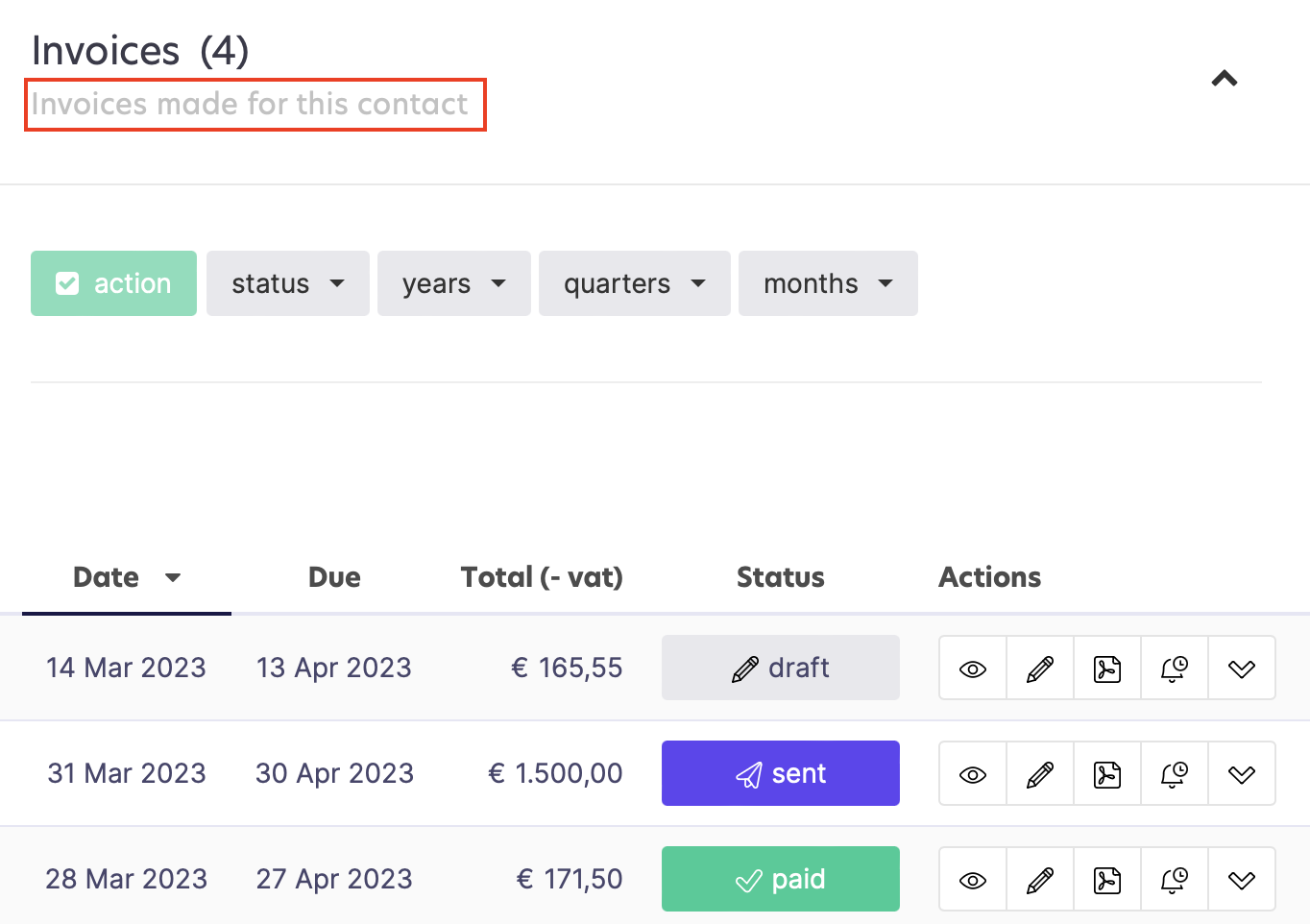 Business is more than generating revenue. That's why it's important to enrich your client files with information that matters to your business too.
You can, for example, add a field to a client sheet. That makes it easier for you to later remember, for example:
the roof type of your customers

whether you developed a website or web shop for a client

If you want to register longer texts, you can add notes to a client information sheet. This is ideal to inform your team in an easy way about
customer complaints

particular wishes or preferences

important information for deliveries

etc.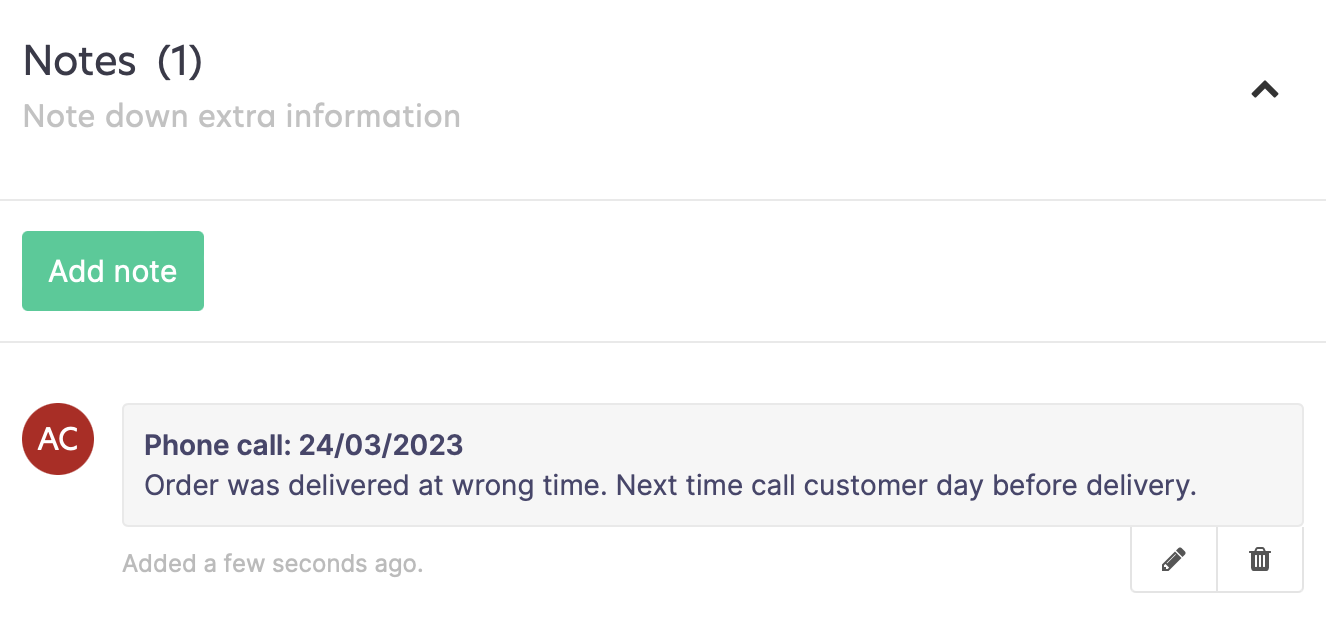 In summary: customer records have 7 benefits for every business. Switching from an old-school client information sheet is therefore a no-brainer.
Client information sheet example
The layout of a client information sheet mainly depends on the program you use to create the files. Some have limited fields, others have a lot, but look overwhelming and clumsy.
In CoManage, the design is modern, focusing strongly on user-friendliness.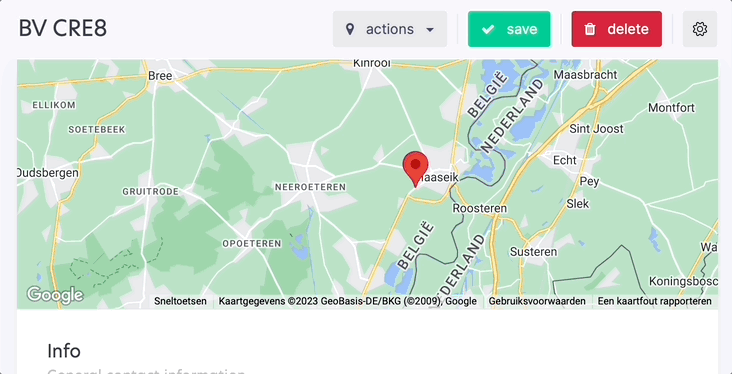 Every customer record contains a set of ready-made fields:
Map: you can switch this off if you want to

Customer contact details

Address

Type: customer or supplier, or both

Additional fields

Language, currency, how you want to send invoices (post or email)

VAT, discount, bank account

Which persons (contacts) work at the company?

Groups: you can create your own categories and classify clients. For instance, "loyal customers" or "leads".

Notes

Activity: the history of the customer record itself. Who changed, added, or updated information?
You don't have to fill in every field for every client. But the fact that the fields are available makes your daily job easier.
And even if you don't add a lot of information to your client sheet, you will still collect valuable information that can make your business grow.
3 ways customer records can boost your business
Client information sheets are the building blocks of your business. The collected data contributes in 3 different ways to your growth.
#1 Customer loyalty
It's a misunderstanding that client information sheets are mainly useful for administrative purposes.
Client information sheets create happy customers
Client records that contain data from contact points will make your team and company stronger.
If all your team members have access to key information about your clients, the communication will be more personal and efficient.

Moreover, you can easily avoid misunderstandings and annoyances.
Communication is key to building a strong relationship with clients. So, you'd better take notes of everything they share with you.
The good. The bad. The ugly.
#2 Understanding buying behaviour
Can you quickly discover when a customer purchased which product? Then you are ahead of many of your competitors.
The purchase history of clients is a treasure. Knowing their interests and needs makes it a lot easier to upsell products and/or services.
With a digital client information sheet system, you can also quickly identify your most loyal customers. That makes it easier to reward them by granting discounts.
To make sure you won't forget to do this, you can create a group.
Call it "Loyal Customers" or "VIP clients".

You can add and remove clients

Assign an entire group a discount.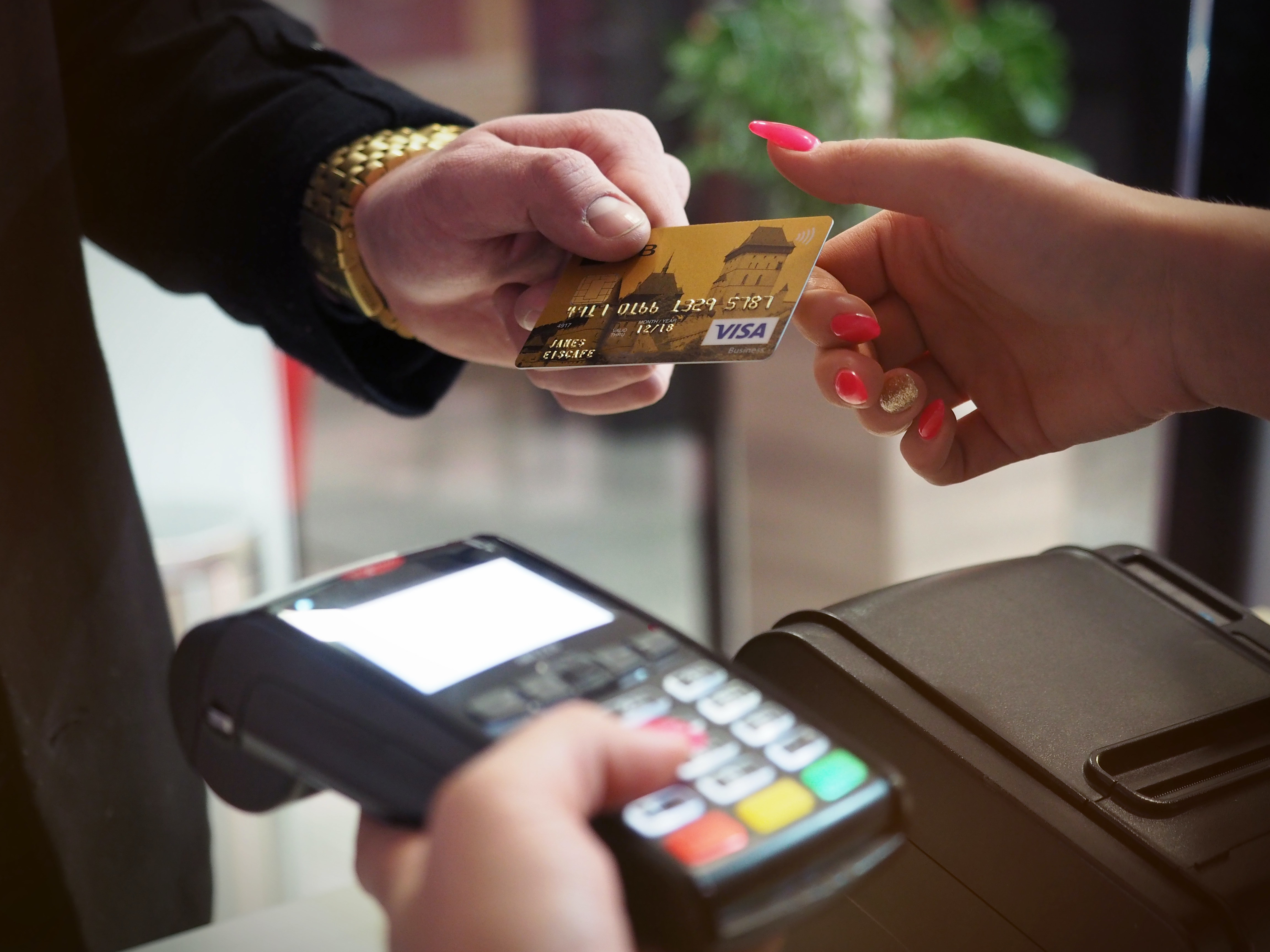 #3 Understanding your business with customer data
All the data from your client information sheets together gives you an excellent overview of how your business is doing.
How many customers have you acquired during a certain period?

Is your business financially sound?

Are you meeting your sales targets?

Are projects delivered on time?

Etc.
Even for your SMB or freelance business, it makes sense to keep your finger on the pulse. But you don't have the luxury of time to be busy with a complicated business analysis.
At CoManage, we understand this and thus built in a business statistics dashboard with:
key figures about your business and clients

filters to quickly select periods, or customer groups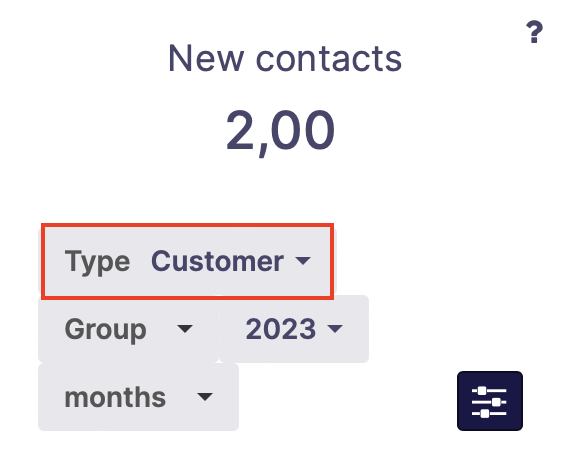 When you use traditional client information sheets, it takes a lot more effort to get this kind of valuable business insights.
So, where do you start best?
Create a digital client information sheet in seconds
Creating your very first client information sheet is the toughest part. As many entrepreneurs who started taking customer data serious, you are probably facing two questions that are holding you back:
Which information do I best include on a client information sheet?
Although these questions are important, the answers are less important than actually starting with a system to keep records of your customers.
You can always switch later on.
The video below, for instance, illustrates how easy it is to import a client database Excel file in CoManage.
You can also do the reverse and export your customer data from CoManage to Excel.
The moment you have created a customer record with basic data, you are good to go.
You and your team can add information on the flow.

CoManage will add the purchase history, orders, payments, projects… automatically.
Seeing is believing. And it costs nothing.
Click on the button below to create your first client information sheet and start growing your business today.