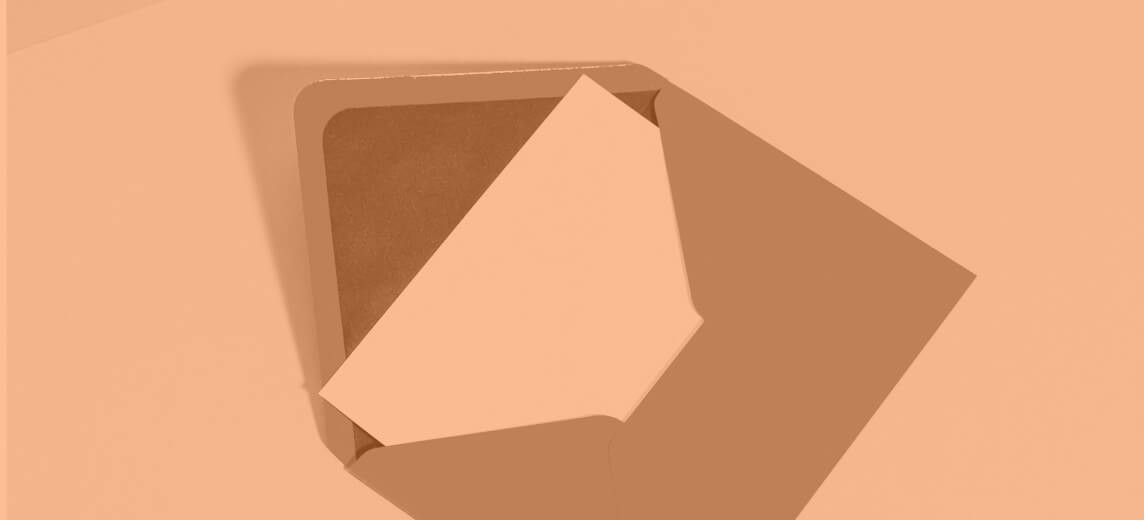 Sending a Quote: 5 ways to send your quote
Sending a quote is one of the important tasks that help determine the success of your business. In this article, we discuss the pros and cons of doing so.
"5 + 0"? Shouldn't that just be 5? No, not in this case.
Sometimes zero is not a synonym for nothing.
The ways to send a quote:
#0 Sending no quotation
Not sending a quote probably doesn't sound like a real option to many entrepreneurs. Yet in some situations it is an option that works and does get results.
You can skip the preparation and delivery of a quotation without any problem if you have:
A web shop where prices are listed anyway.

An ordinary website on which prices are listed for your services or products.

A printed catalog or brochure with prices that you can deliver to your customers.
In all of these cases, your online, or offline catalog, actually acts as an offer itself. Your customer sees the price and doesn't actually need a personalized offer from you.
Disadvantages of not sending a quotation
Not having to send out quotations is the exclusive privilege of certain types of businesses. Especially (online and offline) stores that offer products to individuals do not send quotations. For B2B and service companies, on the other hand, quotations are usually a must.

Do you work with a catalog or a price list? Then your customer has to calculate the (sub)total price himself. And that takes effort or quickly leads to misunderstandings. The chance of missing out on orders when you don't send a quotation often increases in that case.

Granting discounts is also more difficult in a standard brochure or price list. After all, sometimes you only want to do that for your loyal customers. In that case, a quotation is a useful document.

When you don't send out quotations, you miss many opportunities to promote your quality and added value. After all, prices are only... prices. During a sales talk you have more chance to convince. In your quotation you list your strengths. And when following up your quotations, don't fail to emphasize your advantages.

If you do not prepare quotations, you have no overview of opportunities, missed opportunities, successful opportunities. This plays into your disadvantage because you are just doing something at random.

Advantage of not sending a quote
You don't waste your time with administration and the usual frustrations.
But is that really true?
Do you really save time by not submitting quotations?
Sometimes you do. Sometimes you don't.
When do you not need to deliver quotes?
Not delivering a quote and still doing business successfully is perfectly possible. For stores and online shops, this is even the normal way of doing business. But even if you sell products with a fixed price via a catalog, no one will lose sleep over a quotation.
In all other cases it is worth letting your customer know your price. How best to do this depends on the situation...
---
#1 Simply put a quotation on e-mail
A very quick option is to just put your quote in your e-mail and not as a separate PDF attachment to your mail.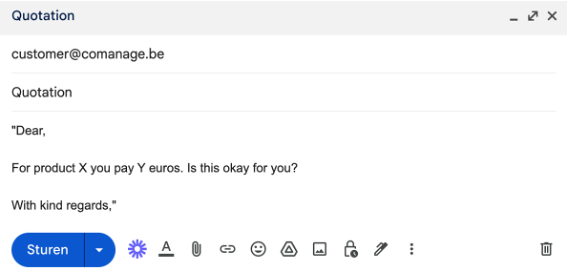 Simple. Quick. And with one big advantage.
Advantage of sending your quotation by e-mail
Such a quotation is prepared and sent in a flash.
By sending an e-mail, you save time in preparing your quotation. But instead you get the following disadvantages:
Disadvantages of sending your quotation by e-mail
Unless you know your prices by heart, you have to look them up somewhere each time anyway.

The risk of error also remains in this approach. Typical when you want to combine the speed of e-mail with doing your own calculations, such as subtotals.

The time you gain by making such a quotation, you lose afterwards searching through your e-mails for that one message in which you had mentioned your price.

A quotation that you send simply as an e-mail does not look very professional. The recipient may take it as "Who already doesn't want to spend much time with me now, that promises". On the other hand: these 5 e-mail templates to boost your sales do work. And in CoManage, you can now use an integration with Chat-GPT to help you with your email texts.

Because everything moves so fast, emails are guaranteed to forget to include certain important elements. An expiration date of your offer, for example.
And yet, there are situations where this approach works. For new customers, this is definitely not the way to go. So when is it?
When to send your offer as an e-mail?
This can work for existing and loyal customers. They already know your products and/or services. So they don't need much explanation. At the time of the quotation request, these customers are usually only interested in the price. Any extra explanation can be quickly included in your e-mail.
---
#2 Send your quotation as a PDF attachment
This is very common nowadays. Send a quote with nice formatting, clear prices and conditions as a PDF to your customer.
More and more entrepreneurs are realizing the advantages of digital quotations.
Advantages of sending your quotations as PDF
The customer receives his quotation quickly, directly in the mailbox

If the customer wants, he can easily print out a PDF

The layout looks much more professional than an ordinary e-mail

Sending your quotation as an e-mail attachment takes no more than a few clicks

And if the quotation is approved, you can turn it into an invoice in just one click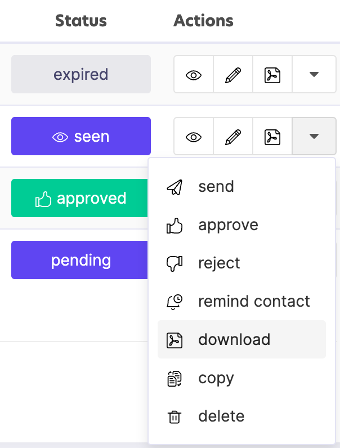 Disadvantage of sending your quotations as a PDF
It is the most common way to deliver a quotation. Or put another way: the least original. People are used to it.
Still send it as a PDF?
Doing as most business owners do is safe. There's nothing wrong with sending a quote as a PDF. But sometimes you have to do things differently to increase your success.
However, if you want just a little extra positive attention, you can either step

back in time

move forward in time

put into the world
Too cryptic? Then be sure to read on.
---
#3 Back in time: sending your quote by mail
In these times where so much goes digital, you can easily become a white raven. All you have to do to do this is take a step back in time.
By falling back on "old-fashioned" ways of communication, you can very easily become positively out of touch. Next time, send your quote through the mail. Printing out your quotation in CoManage is very easy.
Advantages of sending quotations by letter
Your quote is guaranteed to stand out. Letters have become the exception today. Mails, on the other hand, inundate us. Therefore, they get much less attention than a letter sent.

Your customer has a document in their hands. Don't underestimate this advantage. Unlike a digital offer that is easy to file and forget, a letter in your hands is mentally harder to ignore. The document goes through the recipient's hands at least a few times. And your quote stays in the attention zone longer than usual as a result.
Disadvantages of quoting by mail
It costs you just a little more effort. In fact, you also have to print (with one button) and post the quote.

The price is also slightly more expensive. Well, what's called more expensive? In the end, you pay a very small additional cost for an envelope and a stamp.

There is a chance that your offer won't be delivered, or to the wrong address. But you also run that risk with emails. Sometimes they just end up in the spam folder. Unlike a reminder invoice, it is not advisable to send your quotation by registered mail. After all, the recipient won't really be set up with this. Registered letters are usually the harbinger of bad news. So don't do it.
Quote by post: worth a try
Do you want to give your quotation extra attention? Then just send it by mail. The surprise effect on the recipient's side can only work to your advantage.
---
#4 The future: A quote web page
A PDF is good. But do you want to surprise your customer digitally? Then send a personalized quote web page to your customer.

Disadvantages of a quotation as a web page
If you have to create a web page for a quotation every time, it can cost you a lot of time.
But who says you have to do that yourself? If you use CoManage, you don't have to do any extra work yourself.
Benefits of sending a quotation as a web page
You send a PDF quote + a link to your quote page with one button.

With this kind of offer you surprise and give a very modern and professional impression

It costs you no extra effort to create the page

You see when your customer has opened your quote page
A digital quote page looks good and takes away the uncertainty of whether your customer has received and viewed the quote or not.
---
#5 Back in time: Handing over your quote in person
No digital transmission, no stamp, just a visit to your customer to hand over your quote in person. It's the ultimate personal way to deliver your quote.
Advantages of handing over your quotation personally
It doesn't get more personal than this. You make extra time for your customer and really give him or her maximum attention.

While discussing the quotation, you can immediately respond to any questions and uncertainties. The direct explanation can only work to your advantage.

Chances are enormously high that after the conversation you will know the answer to your offer immediately. Rarely will you get a "no" answer. And should your customer not yet make the decision right away, you will immediately feel where the doubts come from. Adjusting your offer in that case is also child's play with CoManage.
Disadvantages of handing over quotations personally
The surprise effect will be less than if you send your quotation by mail. In fact, unless you can visit your client unexpectedly, you will always have to make an appointment. The last thing you want is to arrive at an inconvenient time after your trip. Or that your client is not on site at all.

This approach takes time. It's probably not possible to start doing this for all your quotes. Especially for quotations where the amount, or your profit margin, is lower, handing it in person is not the best choice.
When doing business, a personal approach still works best. Fortunately, there are many different ways to give customers personal attention. Handing over during an interview is just one way. But undoubtedly the best for larger jobs or orders.
---
Conclusion: the best way to send your quote?
None of the 5+0 ways above to get quotes to your customer is in itself better than the others.
In fact, much depends on your type of business and how you do business. Who your customers are. What services or products you sell.
A combination of different ways of sending is perfectly possible in practice. Try for yourself what works best.
But don't forget to keep an overview and follow up on your quotations.
Want to create, send and follow up quotations quickly?