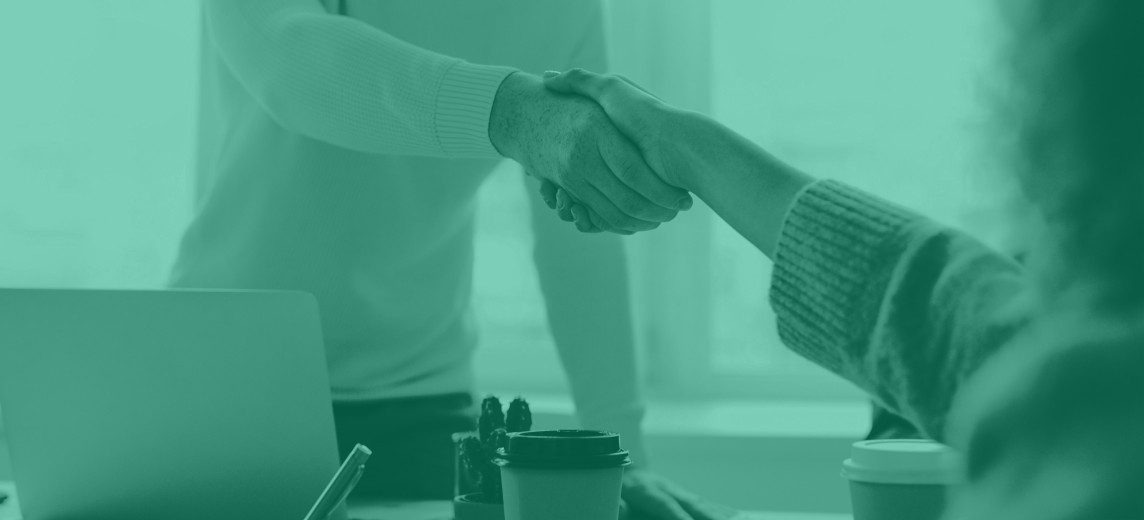 5 tips to follow-up quotations and boost your order approval rate
Following-up quotations strategically can increase the success rate of your order approvals. It's absolutely worth doing, even as a small business or freelancer. Your leads are warm and it takes little to no effort to remind people of how great your offer is.
Before you apply our 5 practical tips, it is important to understand why people don't reply to your proposal...
5 reasons people don't approve your quotations
Don't do blind experiments with your quotation follow-up process. A better approach is to understand why your leads, or customers, don't approve your quotations.
Don't skip this list. It contains some powerful tips that can contribute to a higher approval rate of your quotations.
#1 Customers didn't read your proposal
People may not react to your proposal because they don't know, or care that you have sent it.
Your email proposal ended up in a spam folder or the promotion tab in Gmail. This is a serious problem for leads you have not communicated with before.

The receiver didn't check his or her email. Maybe (s)he left the company, or forgot to activate Out of Office.

Consumers use their email differently from businesses . They may not check it regularly. Besides, your email will have to compete with messages from friends and family.

You responded late to the request. The other side has already chosen another provider and doesn't even bother to inform you.

You sent it as an Excel sheet, or a Word document, and the receiver cannot open your quote.
Pro Tip: If you send your quotations with CoManage, you can see if the other side has seen your proposal.

#2 Your offer looks over-priced
Money is undoubtedly the most important reason quotations get rejected. That doesn't mean that you actually are too expensive.
External circumstances you cannot control can have an influence on how your customers perceive your offer. This not only refers to global crises. Your customer may have planned, for instance, infrastructure investments that affected their budget.

Customers compare. The easiest way to do that is to look at the total price of your offer. The bad thing is that this says nothing about your expertise, quality of work, or what is included.
Pro Tip: Split your offer into smaller parts, or steps, and provide a detailed price for every item. You can even include subtotals to show your customers that you have carefully thought about your pricing.

#3 Your quotation looks unprofessional
The adagio "you can only make a first impression once" also applies to quotes. All details have to be perfect to show that your offering is the most attractive one.
This example of a quotation contains an actionable list of elements that deserve your attention. A professional quote will make you stand out as a trustworthy provider.
Pro Tip: CoManage automatically fills in important details. You can also fully customise your layout to match your branding.
#4 Your lead has questions and doubts about your offer
Customers may be in doubt. Some parts of your offering may not be clear. Unfortunately, there are many possible reasons that can confuse your leads:
They don't know how to approve your proposal. Yes, this happens, especially within B2C environments.

Your client had a clear idea of what they wanted, but now they are considering other options. Maybe you offer these services or products too, but they are not aware of it.

You forgot to mention payment conditions.

Or you use technical words your customer doesn't understand.

You added services or products in your quotation the customer didn't ask for.
Either customers ask you to clarify your quote, or they disappear silently. It is up to you to prevent the latter.
#5 Your quote didn't convince your lead
There are many reasons customers decline your offer. The chances that you will be informed are low. People may ghost you once they have received your quotation.
The irony is that people who don't buy from you are in the best position to give you valuable feedback:
They will be brutally honest. If you know your weak points, you can work on them.

Their feedback can reveal more about your competitors' strategy. You don't need to copy them, but sometimes fine tweaks on your quotations, or follow-up procedure can result in higher success rates.
If you can get feedback from people who declined your quotes, you will learn a lot on how to improve them in the future.
Pro Tip: The worst you can do after you have sent your quotation is wait for a response that may never come. The overview in CoManage helps you to not lose track of pending offers.

Now you understand why offers may not always lead to money, it is time to look at how to follow up your quotes to seal more deals.
5 powerful tips to follow up on quotations
Although quotations are an important step in generating revenue, many small business owners and freelancers consider them as a task, instead of a step in a process.
We get it.
Your days are filled with a myriad of tasks and responsibilities. Creating proposals takes time. When you send them out, you can remove another item from your to-do list.
Quotes are planted seeds that need your attention.
The good news is that once you have sent your proposal to a customer, you don't need to create it again. All you have to do is to remind them of it.
---
#1 Use the expiration date of your quote as an excuse
Not every entrepreneur or solopreneur is equipped with sales skills. When you remind a customer or lead of your proposal, you may sound pushy or desperate.
Being salesy smells. And the odour is not a pleasant one.
Although some people may perceive a reminder of a proposal as rude, there is nothing wrong with it. But you need to build in a subtle warning in your quotation itself: an expiry date.

In your quotation follow-up emails, you can use the expiry data as a friendly reminder.
Mentioning the deadline of your quotation can put some pressure on your customers. And that is exactly what some people need to (finally) decide.
Conclusion: Following up quotations is not an aggressive sales technique. When you remind leads of the expiry date of your offer, you also inform them implicitly that your attractive proposal won't last forever.
---
#2. Send your reminders in due time
Timing is a crucial factor in your sales and quoting process. But when is the right time to follow-up quotes?
You can use two dates to determine the ideal day to send your reminder.
How long does your offer stand?
A week? A month? Longer?
There is no point in reminding people of your offer after one week, when you gave them 3 months to think it over.
In general, take the following into account:
Respect official holidays

Don't send your reminders on weekends. Even if you are working on Saturday or Sunday, people may see this as a signal that you are always available to customers.

For cheap offers, you can send the reminder two days before they expire.

For more expensive offers, 1 to 2 weeks before the expiry date is ideal.
Your customer promised feedback
When a customer promises you to send feedback on your quote on a certain day, mark that day in your calendar.
Don't send a reminder before that day.

Don't postpone reminding them when they are late.
Businesses run on respect and trust. Agreements, even when not being part of a contract, need to be followed.
When you gently remind people of the promises they made, you show you run an organised business. Every business and every consumer likes that.
A quotation tool makes it easy for you to keep track of all your expiration dates.
You can check the overview at the beginning of the week and plan your follow-up activities.
Conclusion: If you respect deadlines, leads and customers will see that your business is well-organised.
---
#3. Personalise your follow-up flow
As with any communication, personalisation is key to success. Even when your quotations are meant for business, you can still add a personal touch to it.
When you send quotes by email, or within a platform, it's a little effort to address people with their name, title and include other variables, such as the company name.

Make use of the build-in Chat-GPT integration in CoManage. This will help you write personalised emails. Just click on the 'Ask AI' button and it will help you create a good text.
Although e-mail is the most popular channel to send proposals, it is not the only one. You can also use other ways to send reminders of your quotations.
You can send your reminder by snail mail. Do it in time to make sure it will be delivered before your expiry date.

You can call the customer and ask if they need clarifications. This gives you an extra chance to start a conversation.
Conclusion: When you personalise your quotes or the way you remind people of them, your offer will stand out from the crowd.
---
#4. Send the same quote again
Mailboxes are the ideal place to lose documents. Maybe your customer missed your offer, or accidentally archived it. Or maybe your company was one of many that sent a proposal competing for the same project.
If you send your quote again, you may save time and frustrations at the receiver's end.
This strategy works best if your customer asked or agreed to discuss it further with you.
Conclusion: Make sure your customers have the proper quote in front of them before you do a follow-up conversation on the phone, online, or in real life.
---
#5. Adapt your quotation
As we pointed out at the beginning of this article, there are 5 reasons your quotes can remain unanswered.
If you discover the exact reason your quotation has not been approved yet, you can change it and send the new version.
A change can, for instance, be
More, or less products, or services

Etc.
Take notes for yourself and your team members. This will give you more context later on.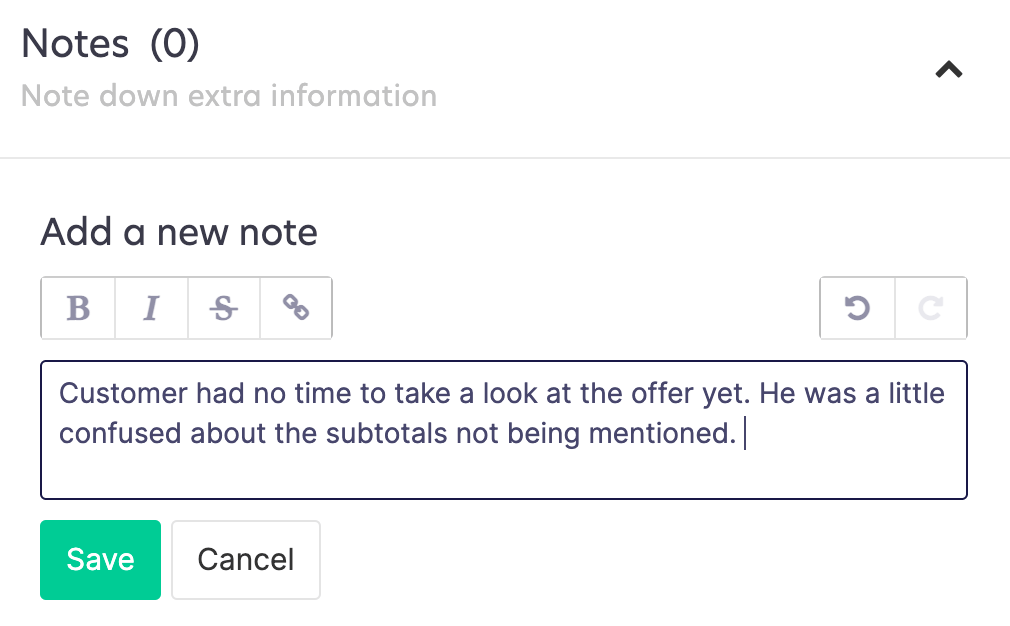 Then, apply the following tips:
Give a shorter period to decide. Your customer had the chance to think. Deciding about changes should not cause delays.

Don't create unlimited variants of quotations. If your communication becomes an endless negotiation process, you will face troubles in the future.

Don't forget to follow-up on your follow-up quotation. You have done a lot of effort and have the right to a straightforward answer. Even if that means a rejection.
---
Final note on improving your order approval rate
Following up quotations shouldn't take much of your time. Even as a freelancer or a small business, you can easily and quickly turn doubters into customers.
A reminder, a clarification of your proposal, or even small changes can make a huge difference.
But you need to build the follow-up process systematically into your sales flow and agenda.
A decent tool will assist you in creating a clear and organised quotation administration and show you opportunities to remind people of your irresistible offers.