The mobile CoManage app available now
From now on you can handle your administration easier and faster with the CoManage app! This makes CoManage the partner for all your administration at home and on the road.
View financial statements

Handle small tasks such as setting invoices to paid and approving quotes

Expand your customer base

More ease of use

7 on 7 support
And all of that on the go via your smartphone📲.
View financial statements
With the app, you can instantly see on the go how your business is doing financially. For example, you'll know exactly if you've sent enough invoices to continue enjoying your vacations. 🏝(Or whether you need to go home to continue working😉🛩)
Perform small actions on the go
Certain actions you can already perform on the go via your smartphone. For example, you can set invoices to paid, send invoice reminders, approve and reject quotes.📑 That's a relief!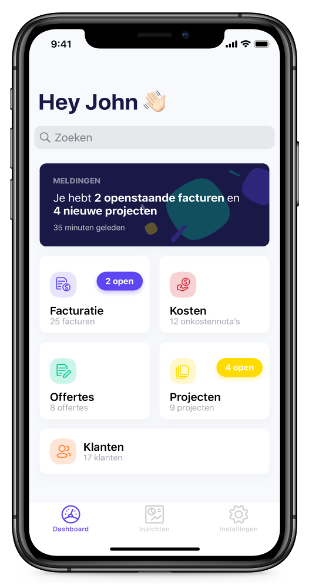 Expand your customer base
Visiting a new customer? 🙋 Easily add all new customer information to your customer database immediately. Or prepare for your meeting with an existing customer by quickly viewing their sales data. You can take your entire CRM management with you on the go. 🚗
More ease of use
Because the CoManage app is fully adapted to your smartphone, you even have more ease of use via your smartphone. You no longer need to use the CoManage web app. Just download the CoManage app for Apple from the Apple App Store or for Android from the Google Play Store. 📲
7 on 7 support
We are available to you 7 days a week via email and chat. The CoManage app makes contacting us even easier. We just travel with you in your pocket.👖Have a question? Or is something not working in the app? Then easily ask your question via our contact option in the app.
Watch a video of our app here:
Download the CoManage app quickly to take advantage of all these benefits.
As a CoManage user you can download this app directly and enjoy the benefits. Are you not yet a CoManage user? Then sign up here and take advantage of all the benefits of the CoManage app as well.